Learn
Our team of underwater instructors are passionate about the underwater environment and helping others learn to explore it. Cutting corners isn't our way of doing things, because we want you to love diving, and we've found that a little more time on the front end with training is the best path to a lifetime of fun and safer diving adventures.
To sign up for a class or get more information, give us a call at (206) 528-3757. We can also arrange custom classes for you, your friends and family, designed specifically around your schedule, with group discounts on training available as well. Contact us to learn more about how we can help you achieve your objectives.
Here are some of the courses we offer at Salish Sea Diving: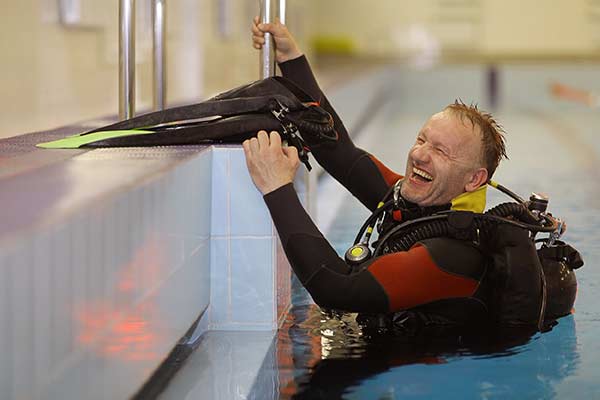 SCUBA Diver
eLearning: 4-8 hours
Classroom: 4.5 hours
Pool Sessions: 3
Open water dives: 4
Our most basic class gives you the skills you need to start exploring the Salish Sea. Our SCUBA diver course includes dry suit training, underwater navigation and other skills required to enjoy diving in the Pacific NW. Split between pool, open water dives, classroom and eLearning, you'll get skills necessary to begin the adventure of lifetime!
NITROX Diver
eLearning: 4 hours
Classroom: 1.5 hours
Open water dives: 2
Extend your bottom time, shorten your surface intervals and reduce your risk of decompression illness with this popular class. Build on your knowledge of gas laws and physiology, to make yourself a more knowledgeable and confident diver. Become and oxygen enriched air - NITROX diver!
Advanced Diver
eLearning: 4-8 hours
Classroom: 6 hours
Open water dives: 8
You're a certified diver now, but you want to refine your skills. The Advanced Diver course is the best way to do that, with a emphasis on buoyancy & trim, night diving, navigation, deeper and more advanced diving. The Advanced Diver certification allows you to dive to the recreational limit of 130 feet.
Dry Suit Diver + Refresh
Classroom: 2 hours
Open water dives: 2
Got certified in the tropics? Planning a visit or just want to try out diving in the Salish Sea? This course will help you learn to stay warm and safe while diving in our cooler waters. We will help you rent the right equipment, learn and practice its use. This course is designed to get you up to speed quickly by completing the classroom session and two open water dives in one day.
Introduction to UW Photography
Classroom: 1.5 hours
Open water dives: 2
Want to extend your love for photography to the underwater environment or just want to capture images for fish identification purposes? Either way, this work shop is for you. Topics covered in the classroom session include optics in the UW environment, optimizing exposure settings, tips for getting the best images, and safety consideration for underwater photographers. In-water sessions focus on dive skills for UW photographers such as refining buoyancy and trim.
Post Processing Your UW Images
Classroom: 1.5 hours
Open water dives: 2
Want to learn to combine images creatively, eliminate backscatter or just remove the optical aberrations that digital cameras introduce? We can help. Using several examples, this work shop will help you learn how to use LightRoom and Photoshop to enhance your underwater images.
Trim for UW Photographers
Classroom: 1.5 hours
Open water dives: 2
Near perfect buoyancy and trim is a prerequisite for capturing great images underwater. This workshop combines classroom and in-water coaching sessions to thoroughly review of the factors effecting your buoyancy and trim. During the two open water dives each participant will verify their 'ideal' weighting and learn to adjust equipment to optimize trim. Dive techniques for managing trim will be demonstrated and practiced.
UW Composition Workshop
Classroom: 3 hours
Open water dives: 2
NAUI Master Diver is the most advanced recreational course out there. The focus of this course is helping participants fill in their knowledge and skill gaps to master all topics pertinent to being a recreational diver. You'll take a deep dive into physics, physiology, decompression, advanced planning and navigational skills, coupled with eight dives to help get you toward expert level.